By Carol Britton Meyer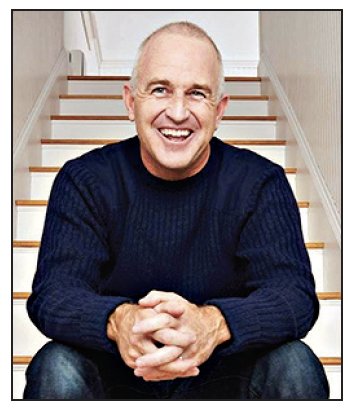 Hull's Joe Berkeley calls his latest television commercial featuring local lobstermen "a love letter to small-town living."
Berkeley wrote and directed a spot for the Quincy-based Arbella Insurance Group featuring a Hull lobsterman and his son rescuing a dog that swam too far from shore and reuniting him with his human companion.
"It's not often that a client gives you the ability to work in your own town with some of your favorite people at such a great location," Berkeley, owner of Hull-based creative services company Joe Berkeley, LLC, told the Hull Times. "I also love dogs, so how could I go wrong?"
The "Friend in Need" commercial features Hull residents Captain Chad Mahoney and his son, sternman James Mahoney, aboard the fishing vessel First Light. The camera boat, the FV Windemere, was helmed by Captain Peter Mahoney, Chad's father, with the film crew aboard.
Originally Golden Retriever Oakley Mahoney was considered for the role of the lost dog. However, following an "interview" with him, it was clear that while he "is beautiful and commands affection, he does not accept direction," Berkeley explained. "Captain Chad was not surprised."
The staff at Sunshine Pet Parlor in Hull, where Oakley is groomed, agreed. "Oakley is the worst dog who visits here. He always knocks everything over," they good-naturedly reported.
Instead, Jagger, who is not a local, played the part, accompanied by a professional animal wrangler who was off-frame coaching the dog and looking out for his safety.
"Jagger is a beautiful dog with a great smile and tail wag," Berkeley said.
Hendrix, another Golden Retriever, was the backup on the "set," so that if Jagger had a bad day, he was ready to step into the role.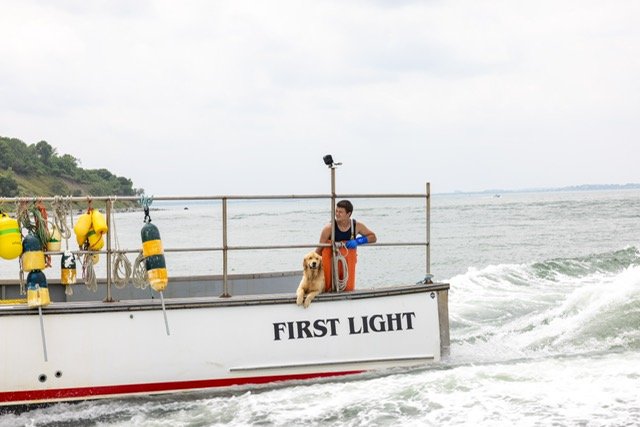 The commercial celebrates people doing the right thing, "with the implication that Arbella will do the right thing by you, not because they have to, but because they want to," Berkeley said.
This assignment was one of the favorites of his career so far.
"It wasn't some difficult shoot in a faraway place trying to sell a breakfast sandwich, but a beautiful story close to home," he said.
This spot was one of more than a dozen commercials for Arbella that Berkeley has produced through his company. In the past, Berkeley has shot about 100,000 images of Boston Light and another 20,000 images of Captain Chad. That work was part of his passion project, "Humans of Nantasket Beach," on Facebook.
With First Light and the filming location in his back yard, Berkeley was able to shoot 32 days of footage before the full crew shoot. The effort proved to be more than worthwhile because when that day arrived, Boston Light's iconic beam was shut off for maintenance. Fortunately, Berkeley was able to put the extensive amount of footage already "in the can" to good use.
To capture the best shots, Berkeley would meet Mahoney at the town pier between the Hull Yacht Club and the Nantasket Beach Salt Water Club at 3:30 a.m. and film him walking around the boat.
"Then I would film the boat leaving the dock and then go back to the Point Allerton seawall and film him going past Boston Light at 4:15 a.m.," he said.
Berkeley couldn't have had a better film crew.
"Chad worked with me a lot to make sure the commercial was authentic. It was important to me that lobster boat people look at it and say the details were right," he said.
James Mahoney, who rescued the Golden Retriever, used to be a lifeguard on Nantasket Beach and "saved some lives," according to Berkeley.
Being in the television commercial with his dad was "a great experience, and Joe's really good at his job. You just had to listen to his direction," James said.
Filming on the ocean can be complicated, but because Captains Chad and Peter knew each other well and worked well together, they were able to provide Berkeley with "exactly what I wanted in the sense of action. Because of their teamwork, I was able to do my job safely and well."
His theory is that "it's easier to teach a lobsterman how to act than for an actor to be a lobsterman."
Chad Mahoney told The Hull Times that he enjoyed working with Berkeley, his father, and his son in his own backyard. "It was a very different and fun experience."
Mahoney and First Light also were featured in an earlier television commercial for a rheumatoid arthritis treatment after Berkeley's photos of his lobster boat captured the attention of the advertising team.
Peter Mahoney found the experience rewarding.
"The commercial is another way to put Hull on the map, he said. "It was fun for us as lobstermen who perform our daily activities on the water to see the commercial on television. It put a completely different light on what we do."
Berkeley was "very understanding" and sought information from the Mahoneys. "He took our suggestions to heart," he said.
Countless photos of lobster boats that are part of Berkeley's "Humans of Nantasket Beach" exhibit informed the research behind the commercial.
The commercial was edited by Hull resident Shondra Burke, who in the past has done editing work for Academy Award-winning director Errol Morris.
"It is an honor to work with Joe, who so thoughtfully put Hull on the map in the 'Friend In Need' Arbella Insurance fall 2023 commercial and included Hullonians in the spot and on the crew," she said. "We are very fortunate and extremely thankful. It is opportunities like these that make memories for a lifetime and allow our beautiful town and accomplished residents to shine."
Her daughter Siobhan, also a Hull resident, served as production assistant.
"I am filled with gratitude and enthusiasm that I had my first commercial production assistant job with Joe Berkeley. This opportunity provided me with invaluable insights and knowledge about the industry," Burke said. "It brings me such joy and pride to be able to contribute to Joe Berkeley's Arbella Insurance commercials, showcasing the beauty of New England and my hometown."
It's important to note, Berkeley said, that most insurance companies running commercials in New England aren't based here.
"Arbella's employees live and work in the communities they serve," he said. "To me, it's more meaningful when Arbella says they will do it right than when a national company with headquarters in some faraway city says it."
The town "was hospitable and made us feel welcome, although there was a lot of good-natured ribbing on the town pier from lobstermen wondering why they weren't in the commercial," according to Berkeley.
In addition to working with Captain Chad and the others, Joe Berkeley LLC has collaborated with New England Patriots quarterback Mac Jones, former presidents Clinton, Bush, and Obama, and former Patriot Tom Brady on his famous post-Super Bowl "Roger That" commercial.
Do you have an opinion on this issue? Click here to write a Letter to the Editor.
3 Likes
Share
Comments (0)
Oldest First Oldest First Newest First Most Liked Least Liked